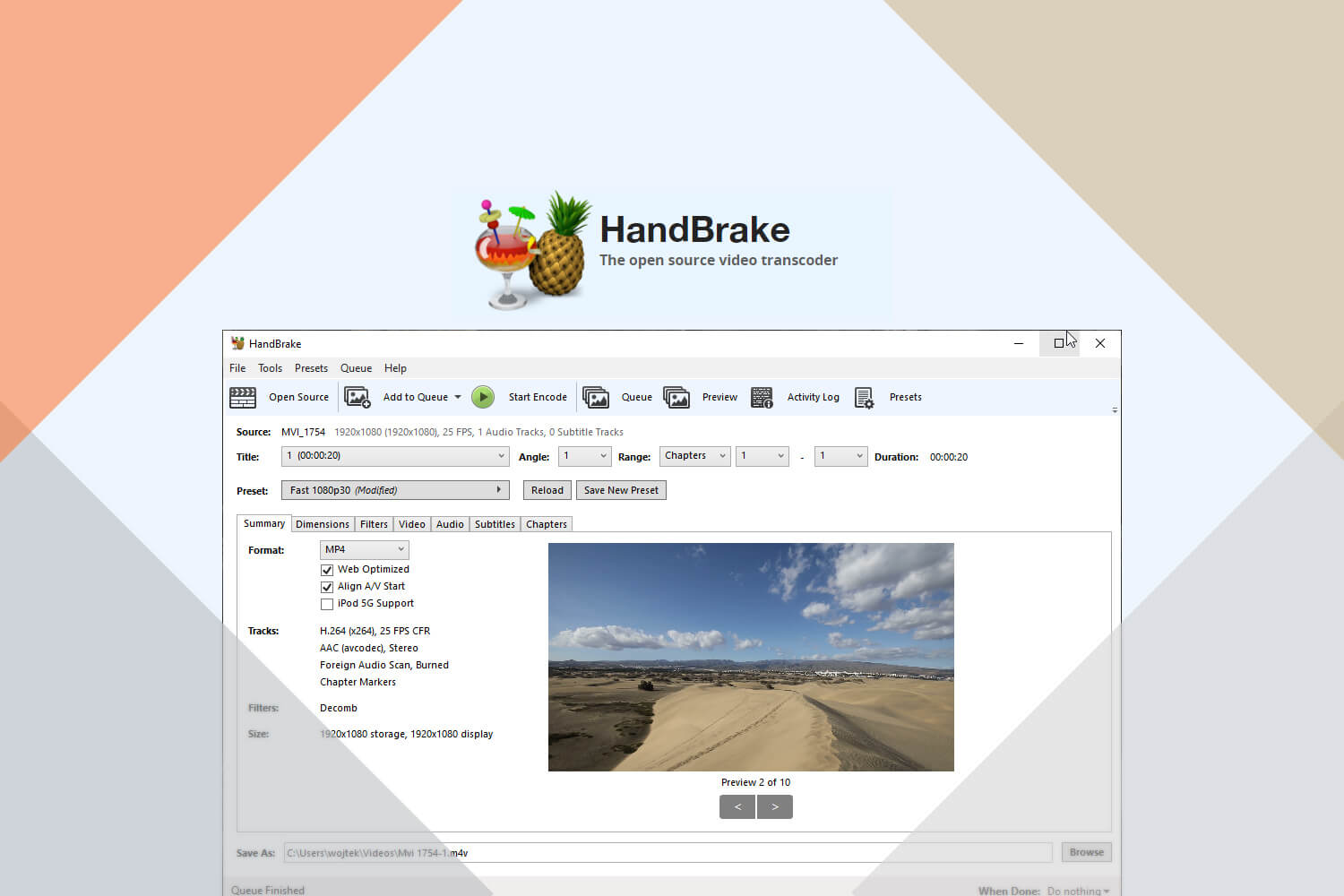 4 steps to optimize video for the Rich Media Creatives • HandBrake
---

4 steps to optimize video for the Rich Media...
Learn how you could optimize video files for Rich Media Creatives to avoid problems on mobile devices.
What is HandBrake?
HandBrake is a free software for Mac, Windows, and Linux to optimize and resize video files. In our case, it is useful when we need to optimize video files for advertising purposes. Each Audio and Video file used in advertising must comply with strict settings.
Unfortunately, very often video files exported by the media department do not comply with Google requirements.
For example, very often, video files contain an audio track. Even if there is no real audio inside, the fact that there is an included audio track will cause iOS that video will not play.
You can download it here.
Let's start
Video specification bellow is recommended by Apple, Android, Google, and IAB as the optimal ones, and it does only cover the case when the video file is directly embedded in the HTML5. Make sure you export the video with the settings as below.
Video Codec
H.264
Progressive Download Format
When encoding an MP4 for progressive streaming, use the "web-optimized" setting.
Video Target Bitrate
max. 500 kbit/s
H.264 Profile/Level
Baseline profile, level 3.0
Video Interlacing
Progressive scanning, ie non-interlaced.
No intra-field motion (blended frames) or interlacing
Audio Codec
AAC-LC or HE-AACv1
Audio Bitrate
128-192 kbps for AAC-LC,
64-128 kbps for HE-AACv1
Audio Levels
-24 LKFS (+/- 2.0 dB) in the US as per ATSC A/85,
-23 LUFS (+/- 1.0) in the EU as per EBU R128
However, software like Adobe Media Encoder tries to export video with the highest quality possible and often is adding Meta tags that can weigh more than the raw video alone. That is why, for web usage, it is recommended to optimize video size and quality with a 3rd party tool like HandBrake.
Open source file
When you open HandBrake, you can select a video file or just drag&drop to the gray area.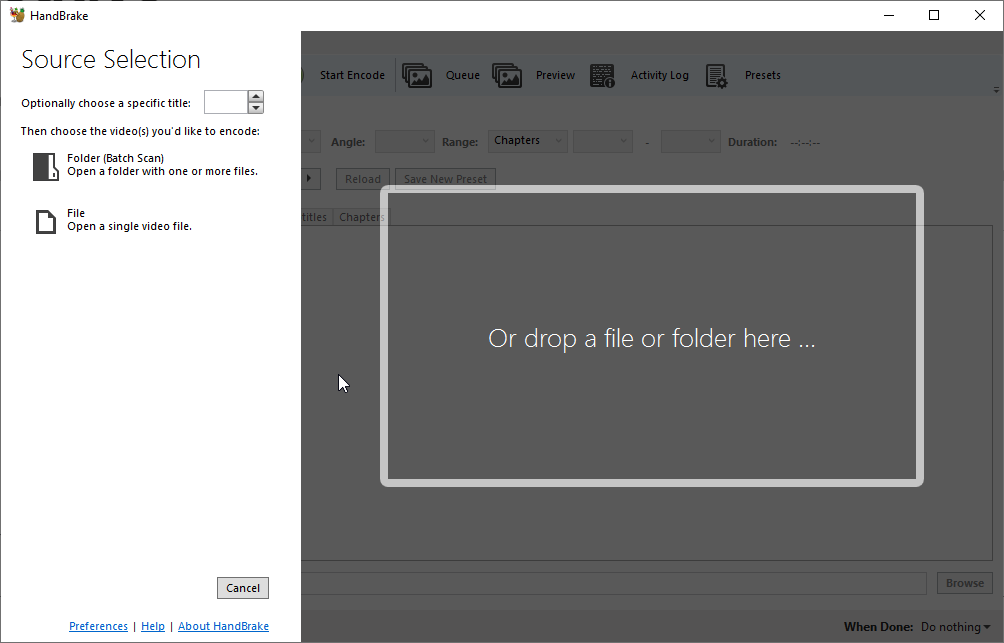 Summary: format options
After you drop the video file, you will see the "Summary" tab. Here you should select the "Web Optimized" option. What it does, is allow your browser to start displaying video while loading the next frames. Otherwise, you will need to wait until the whole video file will be downloaded.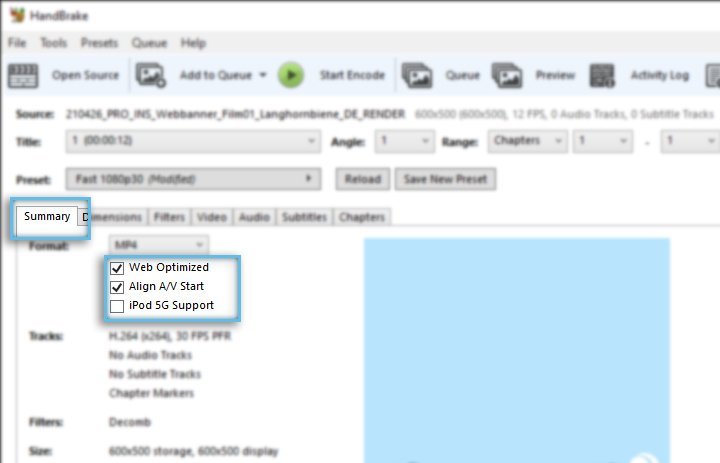 Video: Quality settings
Settings I usually use are setting 25 Frames, Constant Framerate, and Quality 26. I've usually found that you can reduce the file size enough and have good enough quality.
But those settings will have different effects for each video, so you need to make some A/B testing what FPS and quality settings generate what effect.
Your goal is to find a balance between the size of the file and quality.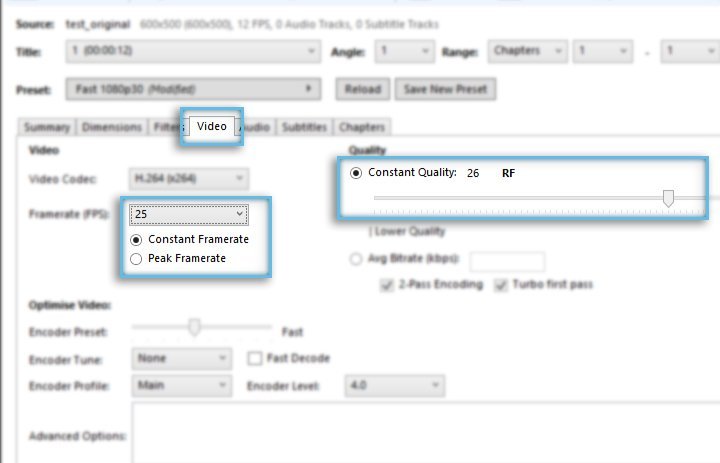 You need to test Quality settings to find the best compromise between file size and final file quality.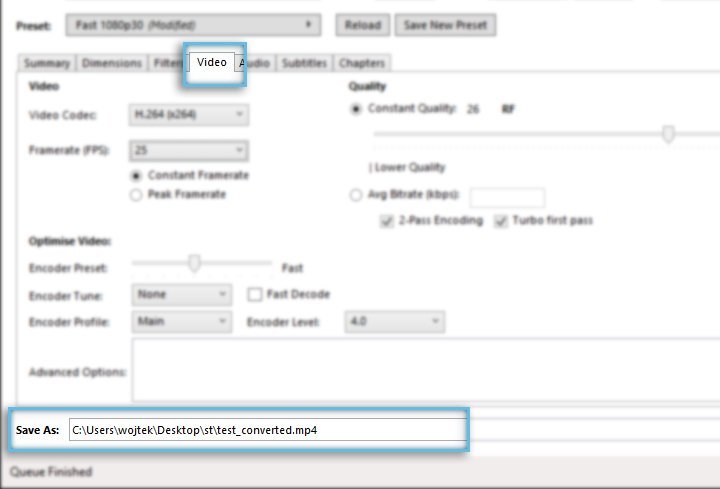 Additionally, an important notice is that you should rename the file name and extension from m4v to mp4. Like on the image below.
Audio: audio tracks
Normally the fact that we have an audio track inside of the video file makes no difference. But in advertising, it makes a big difference, especially on mobile devices. It is not allowed to play music in the creatives. Even if you set the mute attribute for the video, the iOS system will block your video.
So we must make sure that each video does not contain any audio at all.
To remove audio, you just need to click "Clear" button.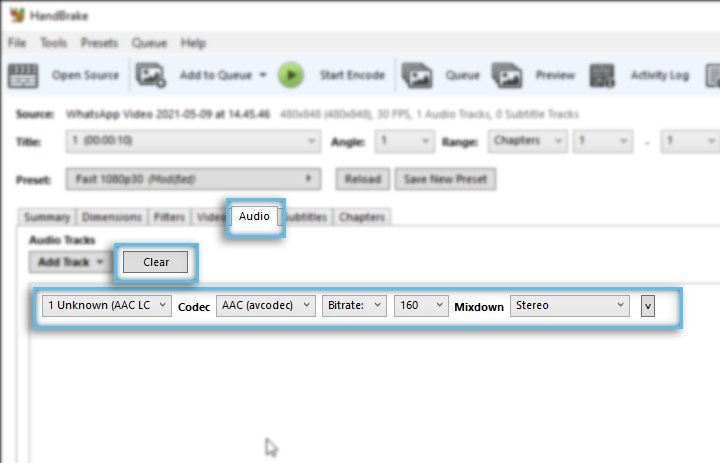 Correct effect, should be like on the image bellow. There should be no listed position.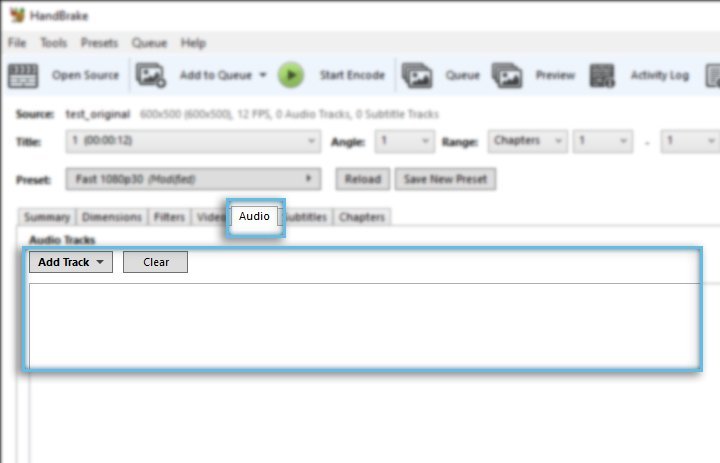 Export file result
In our case example we were able to reduce size significantly

Links:
---
Contact Me

Contact me if you need advice or if you need help. Would you please choose the most suitable contact channel for you?
Subscribe to our newsletter!