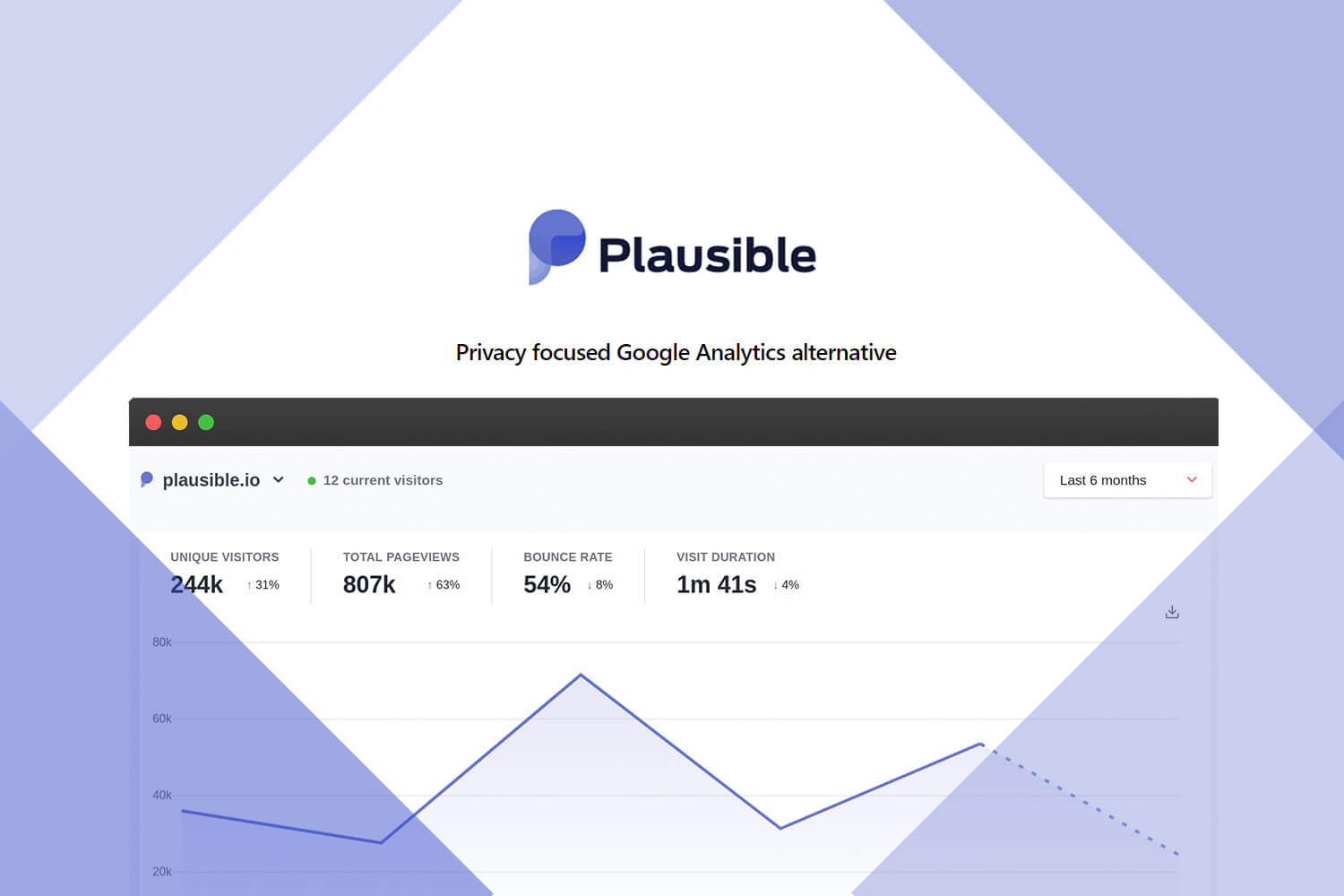 Plausible Analytics • Ultimate Privacy Compliant Web Tool
---

Plausible Analytics • Ultimate Privacy...
Plausible Analytics is one of the new generation projects build around Privacy First/Cookie-less approach. It is an interesting alternative for Google Analytics users who need web analytics tools but at the same time respect their user's privacy.
What is Plausible Analytics
Plausible Analytics is an Open Source web tool, an alternative to Google Analytics.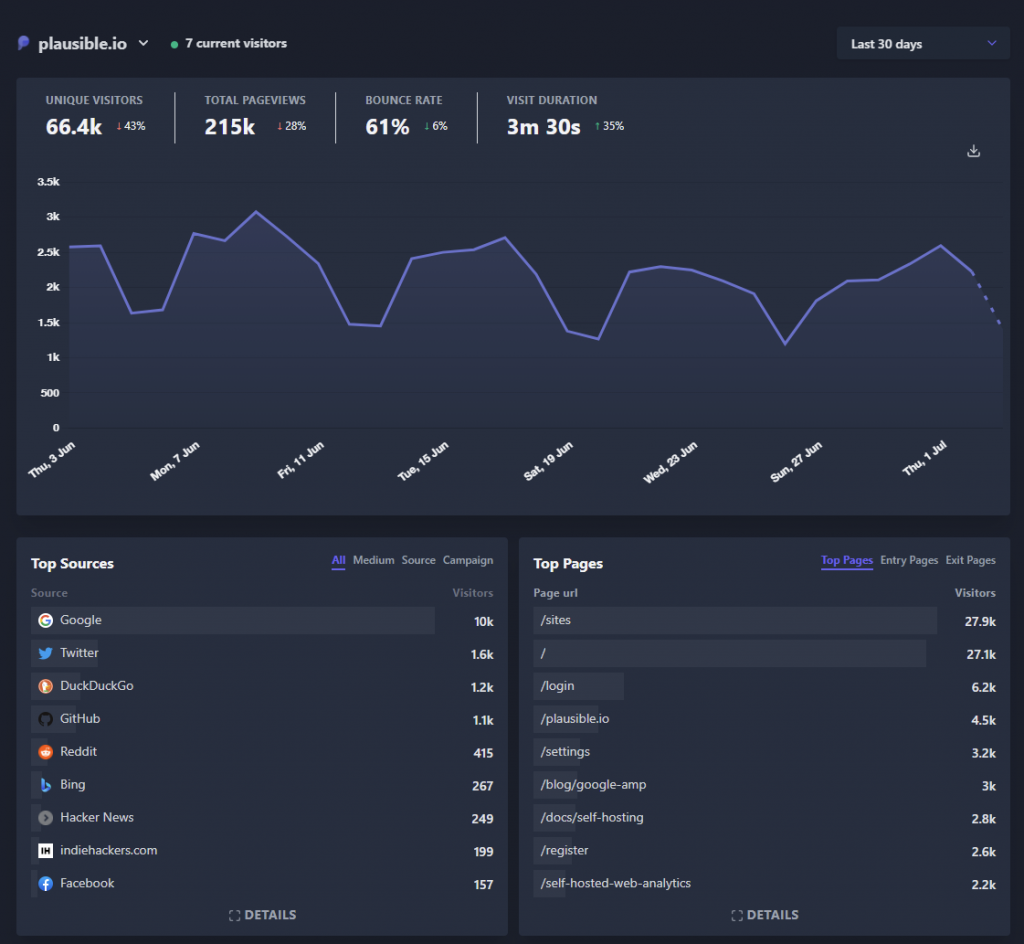 Plausible vs. Google Analytics
Let's compare those two analytics systems by looking into their differences.
GA – Google Analytics (classic version)
GA4 – Google Analytcics 4 (latest version)
PA – Plausible Analytics
Cookies and User Identifiers
GA/GA4 uses cookies and unique identifiers to identify the user and all his activities over time.

PA does not use cookies. Instead, what is uses is a daily generated ID, using user IP and User-Agent from the browser. So if you switch to a WiFi network, update Chrome, or open the website tomorrow, the system will assign you a new ID.

Free vs. Paid version
GA/GA4 is free (Except GA360) because it is a part of the whole Google network to exchange user data with products like Google Ads, DV360, etc. which is a main stream of revenue for Google.
PA It is not free. It has a subscription fee. You can check pricing here.
Complexity of data
GA/GA4 It is hard to tell precisely, but Google collects around 200+ basic metrics from the user as far we know. In Google Data Studio, we can see a total of 500 dimensions and metrics combine, which allows us to generate a very detailed reports.
PA collects only:

Page URL
HTTP Referer
Browser
Operating system
Device type
Visitor Country
It seems that not much is collected, but on the other hand, it is enough for most website owners.
Lightweight vs. Heavyweight script
On my website, I've:
Google Tag Manager (GTM) – 39KB
Classic GA – 20KB
GA4 – 48KB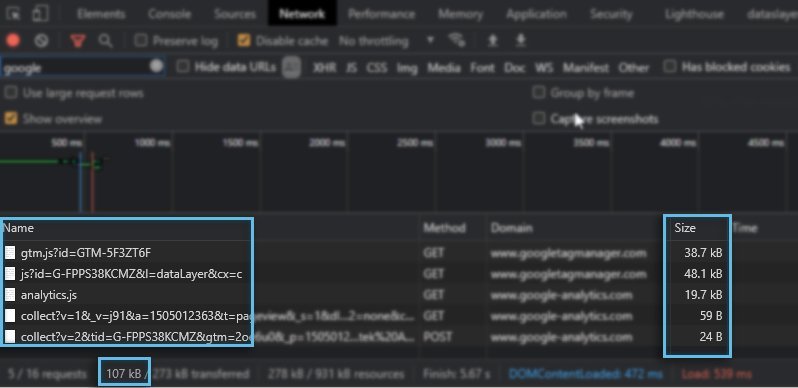 Besides Google Tag Manager, which can manage conversions triggers for Plausible, we see that the size of the Google Analytics scripts is significantly more extensive, which might harm the website's loading time.
Plausible with 1KB size, it is hard to imagine a scenario that would harm loading time performance.
Ok, but is 20/48KB a lot? For comparison, JavaScript library jQuery, a multi-task tool, is seen as a heavy asset, loads with the size of 31KB (v.3.6.0).
I wonder what magic Google uses with GA4 that is 50% bigger than a heavy jQuery.
User identification
GA/GA4 thatnks to the persistant identifiers can potentially identify the user on cross-device/environment by many days.
PA can not identify the user on cross-device/environment, and it does not use user profile. User identification in the future is not possible.
User data collection
GA/GA4 creates a user profile, and all user activities are assigned to this user profile so that Google can use it across multiple of its platforms.
PA does not use user profiles. All collected (even-level) data are automatically assigned to dimensions/metrics. There is no logical connection between users and dimensions/metrics.
Google Ads / DV360/BigQuery integration
GA/GA4 has multiple integrations.
PA does not use Cookies or User Idenfieres, so a connection with Google Ads/DV360 would be impossible. There is no automatic connection to BigQuery, but using API, we could export data.
Data management
GA/GA4 is a bit complicated. Yes, you can remove/request the removal of your data, but Google still owns data (and backups).
PA We can erase everything, just press the button. If you want, you can install Plausible on your server so that you will be 100% owner of your data, and no 3rd party entities will be involved.
User consent / GDPR
GA/GA4 it uses cookies and collects user data for analytics and marketing purposes. Yes, you use Google Analytics for analytics/reporting purposes by default, but you still need to show and explain this to the user.
PA does not use Cookies or any other persistant identifiers, does not collect any user data (PII) that could be used to identify him back. Technically there is no need to ask user for a consent, but it is better to mention/describe use of the Plausible Analytics on the website.
PID – Persistent ID, assigned by the website/app for a single user with engagement data from one or more sessions initiated from one or more devices. (Read more)
Can Plausible track campaigns or events/goals?
Yes. You can define your own goals and use UTM parameters for campaign tracking (source, medium, campaign).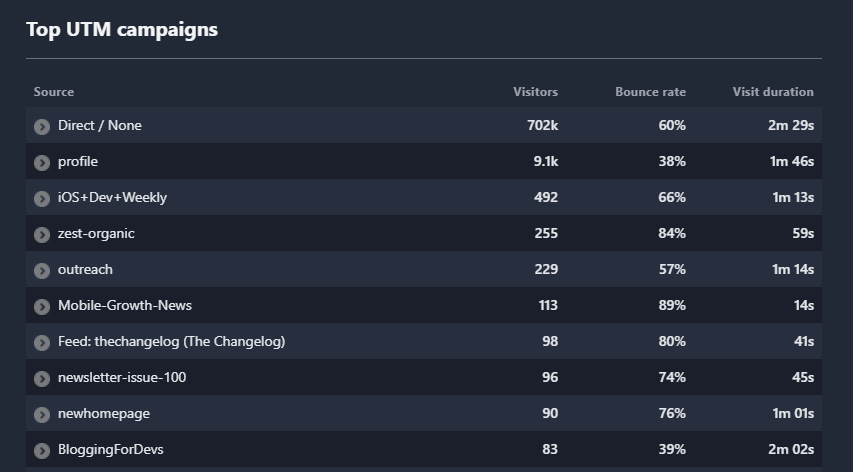 But Plausible offers not much detailed information in the reports.
Precisely that is the point. Less user data we collect, the more privacy safe/compliant we become.
On the other hand, if we compare classic GA and the latest GA4, reporting is simplified, with more general user data segments. Which, in my opinion, indicates the future direction of web analytics tools.
But Plausible does not have many features.
Yes, that is true. Plausible Analytics is a pretty new project, but it is getting more attention and support, and as a community, we can impact the development of the features we need.
A good solution for the future
We live now in exciting times, each ear user privacy regulations and restrictions are getting more and more difficult for the marketing and advertising industry. Everybody tries to find the best solution but at the same time keep the old-style business going. Unfortunately, it does not seems to be a thing.
Plausible Analytics offers a fresh approach which by design respects privacy regulations and also ignores technical limitations (cookies, device IDs, hidden IP, etc.).
Yes, it is a new project in the relatively early stage of development, which can be an adoption problem for a big company/institution. But in comparison, it gives the website owner what Google Analytics can not give, which fully controls user data ownership.
Google Analytics is a great tool, but privacy aspects are becoming more relevant than features software can give to you in the times we live.
Links
---
Contact Me

Contact me if you need advice or if you need help. Would you please choose the most suitable contact channel for you?

My Services

If you need a technical specialist to technical support to fix your problems, you are in the right place.

Who I am

Hello, my name is Wojtek, I'm an experienced Software Engineer, with many many years of experience in the advertising industry.
Subscribe to our newsletter!