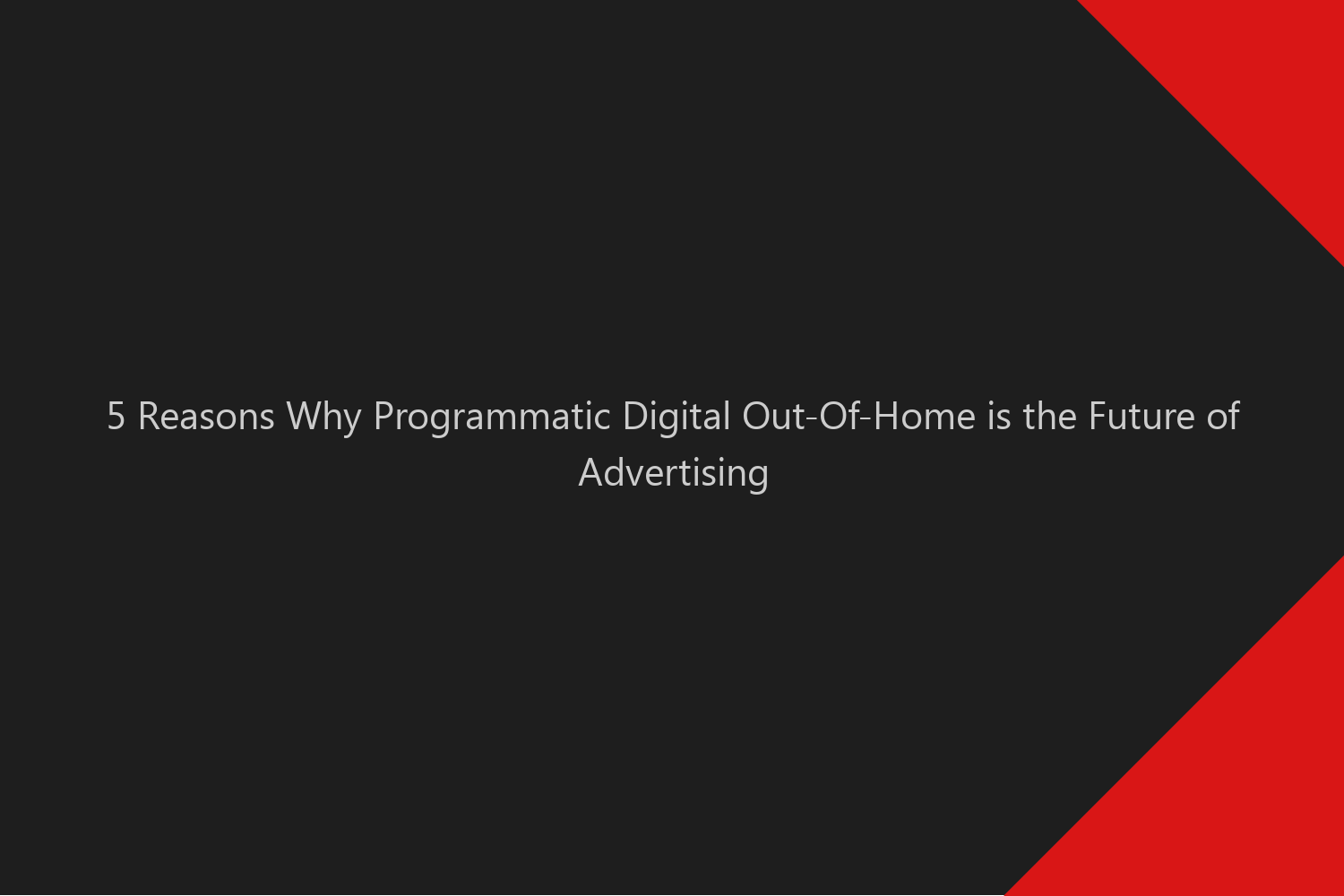 5 Reasons Why Programmatic Digital Out-Of-Home is the Future of Advertising
---

5 Reasons Why Programmatic Digital...
Welcome to the future of advertising! Programmatic Digital Out-of-Home (DOOH) advertising rapidly transforms how brands and marketers engage with their audiences. This exciting innovation combines the power of technology and creativity to deliver captivating ads that truly resonate with consumers. Let's dive into the top 5 reasons why Programmatic DOOH is becoming the go-to choice for forward-thinking advertisers.
Unparalleled Flexibility and Adaptability
Programmatic DOOH advertising offers unmatched versatility, allowing advertisers to tailor their campaigns in real-time to suit specific target audiences. The flexibility to adapt and optimize messaging based on factors like location, time, and even weather conditions ensures that ads are relevant and engaging—this ability to customize campaigns results in more effective advertising and higher return on investment (ROI).
Data-Driven Insights for Enhanced Targeting
Harnessing the power of data analytics, Programmatic DOOH advertising allows marketers to understand their audiences better and precisely target them. These data-driven insights enable advertisers to create more personalized and relevant campaigns that resonate with consumers. Marketers can make informed decisions to optimize campaign performance and maximize ROI by leveraging real-time data.
Seamless Integration with Omnichannel Strategies
Programmatic DOOH advertising is a fantastic addition to any omnichannel marketing strategy, as it effortlessly complements other digital channels like social media, email, and mobile. By integrating Programmatic DOOH into their marketing mix, advertisers can create a cohesive and engaging brand experience across multiple touchpoints. This seamless integration helps brands drive awareness, engagement, and conversions more effectively.
Improved Efficiency and Cost-Effectiveness
As a result of advanced automation and real-time bidding capabilities, Programmatic DOOH advertising can be incredibly cost-effective. This innovative approach streamlines ad-buying processes and reduces manual tasks, allowing marketers to focus on strategy and creativity. Programmatic DOOH also eliminates the need for costly, time-consuming traditional media buying, resulting in a more efficient and affordable advertising solution.
Eco-Friendly Advertising Solution
Programmatic DOOH is not only a powerful advertising tool but also an environmentally friendly one. As it relies on digital screens and eliminates the need for paper or other physical materials, this advertising significantly reduces waste and carbon footprint. By choosing Programmatic DOOH, advertisers can contribute to a greener future while effectively reaching their target audiences.
Conclusion
Programmatic Digital Out-of-Home advertising is undoubtedly revolutionizing the advertising landscape. With its unparalleled flexibility, data-driven targeting, seamless omnichannel integration, improved efficiency, and eco-friendliness, this innovative approach is shaping the future of advertising. Don't miss the opportunity to participate in this exciting transformation – embrace Programmatic DOOH and watch your brand's success soar!
Links